The UKSHA is staging two events in Scotland supported by the Lowland Deer Network Scotland (including SNH, Forestry Commission Scotland and Transport Scotland), the British Deer Society, the KBGS e.V, the Verein Hirschmann e.V and the ISHV.
Two very experienced judges, one from KBGS and the other from the Verein Hirschmann, both ISHV qualified members of the groups who train people in Germany, and also on the Committee of the clubs in Germany, are coming to Scotland.
Check out German Kälberer and Joachim Schweizer on the Schweißhundestation Alb-Schurwald website. They will be conducting the seminars – both these men are experts with real time experience in training people and dogs to track wounded animals.
Event 1 – Friday 30 September 19.00 – 21.00hrs
County Hotel, Dalkeith EH22 1AY
This seminar will cover:
The psychology of dogs; learned behaviour based on the genetic disposition of a dog
The requirements of both sire and dam before breeding
How to breed and raise healthy, strong minded, efficient and capable hunting-dogs for training and work with wild boar, red deer, sika deer, fallow and roe deer.
Question and discussion session.
Event 2 – Sunday 2 October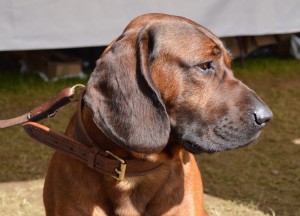 Semeil Farm, Strathdon, Aberdeenshire AB36 8XJ
Shot site seminar
0930 – 1030 Theory part 1
1030 – 1045 Coffee break
1045 – 1200 Theory part 2
1200 – 1300 Lunch (please bring your own lunch)
1300 – 1630 Practical
This seminar gives the theory required and also demonstrates the practical side of the shot site; how to determine what to do after the shot – and what not to do.
It is hoped that these events will generate more interest in this aspect of deer and boar welfare.
Cost for both events is FREE – as is the tracking of wounded animals undertaken by UKSHA.
Further information and to reserve places by e mail as below:
George Ritchie
Banff & Buchan Deer Group
E: ritchie929@btinternet.com
Mark Telfer
East Lothian and Edinburgh Deer Group
E: markgtelfer@btinternet.com