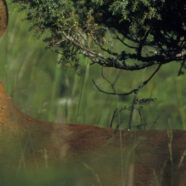 Low ground land is generally economically productive but landholdings including farms, woodlands, forestry, local authority land, development ground, and semi urban areas are fragmented. The deer species here is mainly roe, but in places red, sika and fallow deer are also present.
LDNS covers all land outside the scope of Scotland's upland deer management groups and the main red deer range.
The Wildlife and Natural Environment (Scotland) Act has placed an obligation on ALL who have deer on their ground to manage them responsibly.
Click to read more about LDNS >>