South Lanarkshire Deer Group has gifted120 venison packs (240 venison dinners) to Calderwood Baptist Church, Maxwellton Road, East Kilbride. The venison in the form of 1/4lb venison burgers and square sausage will be supplied in the Christmas food parcels from the Church to the East Kilbride Community Food Bank to provide a little extra at Christmas to those in need in the area.
This year's gift of venison, which comes from locally sourced roe deer, follows a similar well-received initiative in 2015.
David Quarrell, Chair of the South Lanarkshire Deer Group (SLDG), says: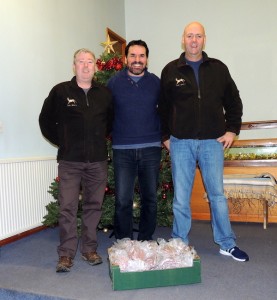 "We are delighted once again to be making this gift to Calderwood Baptist Church at Christmas. The food bank run by the Church is a really worthwhile initiative. Venison is an especially healthy meat, procured and processed locally – it's a completely sustainable resource and, being local, there are minimal food miles.  It's a privilege for our Group to make this small gesture, and extremely good use of local produce."
Thomas McNeil, Associate Pastor, said:
"This Christmas, we have the privilege as local churches to provide Christmas dinner for around 200 families in East Kilbride. We are always amazed by the generosity of individuals, organisations and businesses at this time of year. This gift of venison is an incredibly kind gesture to the families of East Kilbride who will receive our hampers. Our hope is that the hampers will bring joy to families as they celebrate Christmas this year."
Picture shows, left to right, Richard Knight, SLDG; John MacKinnon, Pastor, Calderwood Baptist Church; and Ian Anderson, SLDG.